What are Good Cars for Students? Our Top 6 Picks
Are you a college student who's looking for a new or used car? If so, you're in luck! There are plenty of great options out there that are perfect for students. Check out our list of the 6 best cars for college students to see which one is right for you. Whether you're looking for something affordable and practical or something flashy and fun, we've got you covered. So what are you waiting for? Start shopping!
A tip: If you're a student, there are a few government-mandated programs in place that can help you afford a car. Additionally, many lenders offer down payment assistance programs that can help make car ownership more affordable.
Cars for College Students
Volkswagen Polo Hatchback (Forward Collision Warning)
Looking for a compact hatchback that's both stylish and safe? The Volkswagen Polo is a great option for students.
The Polo has a spacious interior for its size, and it's easy to get in and out of, thanks to the wide-opening doors. The cabin is well built and reasonably stylish, although it doesn't feel as upmarket as some of its rivals. The level of standard equipment is good, though, with all car models coming with air conditioning, DAB radio, and Bluetooth as standard.
The Polo comes with a variety of engines to choose from, including both petrol and diesel options, so you can find the perfect one to suit your needs. When it comes to safety, the Polo is equipped with a variety of features to help keep you and your passengers safe on the road. These include front and rear airbags, automatic transmission, adaptive cruise control, lane keeping assistance, anti-lock brakes, lane departure warning, blind spot monitoring, forward collision warning, and traction control.
If you're looking for a small car that ticks all the boxes, then the Volkswagen Polo hatchback is definitely worth considering.
Toyota Prius 2020
Looking for a fuel-efficient, safe and affordable car? The 2020 Toyota Prius might be the perfect option for you.
The 2020 Toyota Prius is a fuel-efficient car that comes with key safety features like a backup camera, lane departure warning, emergency braking, pedestrian detection, etc. It also has great safety ratings, making it a perfect choice for families. The interior is spacious and comfortable, with plenty of room for five adults. The exterior is modern and stylish, with LED headlights and taillights. The security features are top-notch, with an alarm system. The performance is outstanding, with excellent fuel economy.
Overall, the 2020 Toyota Prius is an excellent choice for anyone looking for a safe, fuel-efficient car.
2018 Hyundai Elantra
The Hyundai Elantra is a student-friendly car that offers great value for money. It is one of the most affordable cars on the market and is perfect for young drivers.
The exterior of the Hyundai Elantra 2018 is sleek and modern, with LED headlights and taillights that make it easy to see in low-light conditions. The interior is spacious and comfortable, with plenty of legroom for passengers.
The security features on this car are top-notch, with an alarm system and remote keyless entry that keep your vehicle safe. The performance of the Elantra is impressive, with a powerful engine that provides plenty of power.
Overall, the Hyundai Elantra 2018 is a great choice for not just students but anyone in the market for a new car.
2016 Mazda CX-5 (Adaptive Cruise Control)
2016 Mazda CX-5 is a compact crossover that features a number of improvements over the previous model, including a more powerful engine and a host of advanced safety features and technology features.
The 2016 CX-5 is powered by a 2.5-liter four-cylinder engine that produces 184 horsepower and 185 lb-ft of torque. That's an increase from the 155 hp and 150 lb-ft torque of the 2015 model. Additionally, the engine is paired with a six-speed automatic transmission. Front-wheel drive is standard, while all-wheel drive is available as an option.
Mazda also added a number of impressive safety features to the CX-5 for 2016. These include blind spot warning, rear cross-traffic alert, electronic stability control, and lane departure warning. An ACTIVSENSE safety suite is also available, which offers advanced safety and assistance features.
On the technology front, the 2016 CX-5 features the Mazda Connect infotainment system with a 7-inch touchscreen display. The system offers integration with smartphones.
If we talk about the interior, it's luxurious. It comes with cloth upholstery and manually adjustable front seats. It features a roomy interior, which means you can ride with your friends to college without feeling stuffed.
All in all, it's one of the best cars for college students.
2015 All-Wheel Drive Subaru Impreza
The all-wheel drive Subaru Impreza is a great midsize car for students. It's affordable, practical, and safe.
The Impreza is known for its all-wheel drive (AWD) capability, which has helped it gain popularity in regions like North America, where snow can make roads hazardous. It is also equipped with a boxer engine, which gives it excellent balance and handling. The Impreza is available with a 2.0-liter four-cylinder engine that produces 148 horsepower.
When it comes to safety, the Impreza has always been a top performer. It was one of the first cars to offer side curtain airbags as standard equipment. In addition, all models come with stability control and anti-lock brakes. The Impreza has also earned top marks in crash tests conducted by the Insurance Institute for Highway Safety (IIHS).
If you're looking for a well-rounded and affordable compact car, the Subaru Impreza should definitely be on your list.
2021 Honda Accord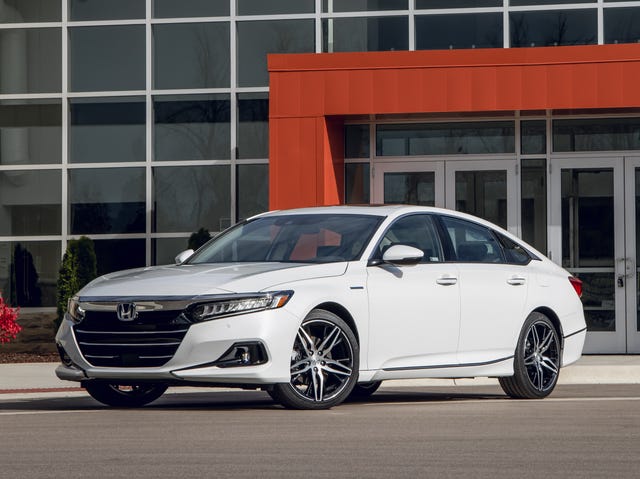 The 2021 Honda Accord midsize sedan is a great option for students. It has a roomy cabin, plenty of cargo space, and good crash test scores.
The 2021 Honda Accord seats five passengers and has a standard 192-horsepower, turbocharged four-cylinder engine, and a continuously variable automatic transmission.
Inside, the Accord has a spacious cabin with plenty of headroom and legroom for all passengers. Standard features include synthetic leather upholstery, heated front seats, and an eight-inch user-friendly infotainment system with Apple CarPlay and Android Auto. Higher trim levels add features like wireless smartphone charging and a Mobile Hotspot Capability.
When it comes to safety, the Accord comes standard with adaptive cruise control, automatic emergency braking, and lane keeping assist.
2017 Jeep Wrangler
Are you a college student looking for a jeep? Consider the 2017 Jeep Wrangler.
The Jeep Wrangler has a long history that dates back to the World War II era. The vehicle was first created as a lightweight vehicle for the U.S. military. Today, the Wrangler is still built with the same rugged durability and off-road capability that made it so popular with soldiers during the war. The 2017 model features a number of new updates and improvements, including a revised exterior design, updated interior features, and enhanced safety and security features.
On the outside, the 2017 Jeep Wrangler sports a new grille design and the updated headlight and taillight assemblies. The body of the vehicle is also more aerodynamic than previous models, helping to reduce wind noise and improve fuel efficiency. Additionally, the Wrangler is now available with LED headlights and fog lights.
Inside, the Wrangler has been outfitted with a new infotainment system that is compatible with both Android and iOS devices and offers access to a variety of apps and services. For safety, the Wrangler now comes standard with blind spot monitoring.
Under the hood, the 2017 Jeep Wrangler is powered by a 3.6-liter V6 engine that produces 285 horsepower and 260 lb-ft of torque.
All in all, Jeep Wrangler is a true icon, and the 2017 model builds on the vehicle's legendary reputation.
Parting Ways
And there you have it – the best cars for college students. These aren't it; you can also consider an older model of Honda Civic, 2021 Kia Seltos, and 2021 Subaru Crosstrek.
If you're looking for a reliable and affordable car, then any of the vehicles on our list would be a great choice. If you're looking for something a little more luxurious, then you might want to consider splurging on a higher-end model of the cars mentioned above. Whichever route you choose, we wish you the best of luck in finding the perfect car for your needs!
If you want to sell your old car to buy a new one, you can call Zippy Cash. They are in the business of removing junk cars from customers' hands in exchange for money.