Best Rivian Car Model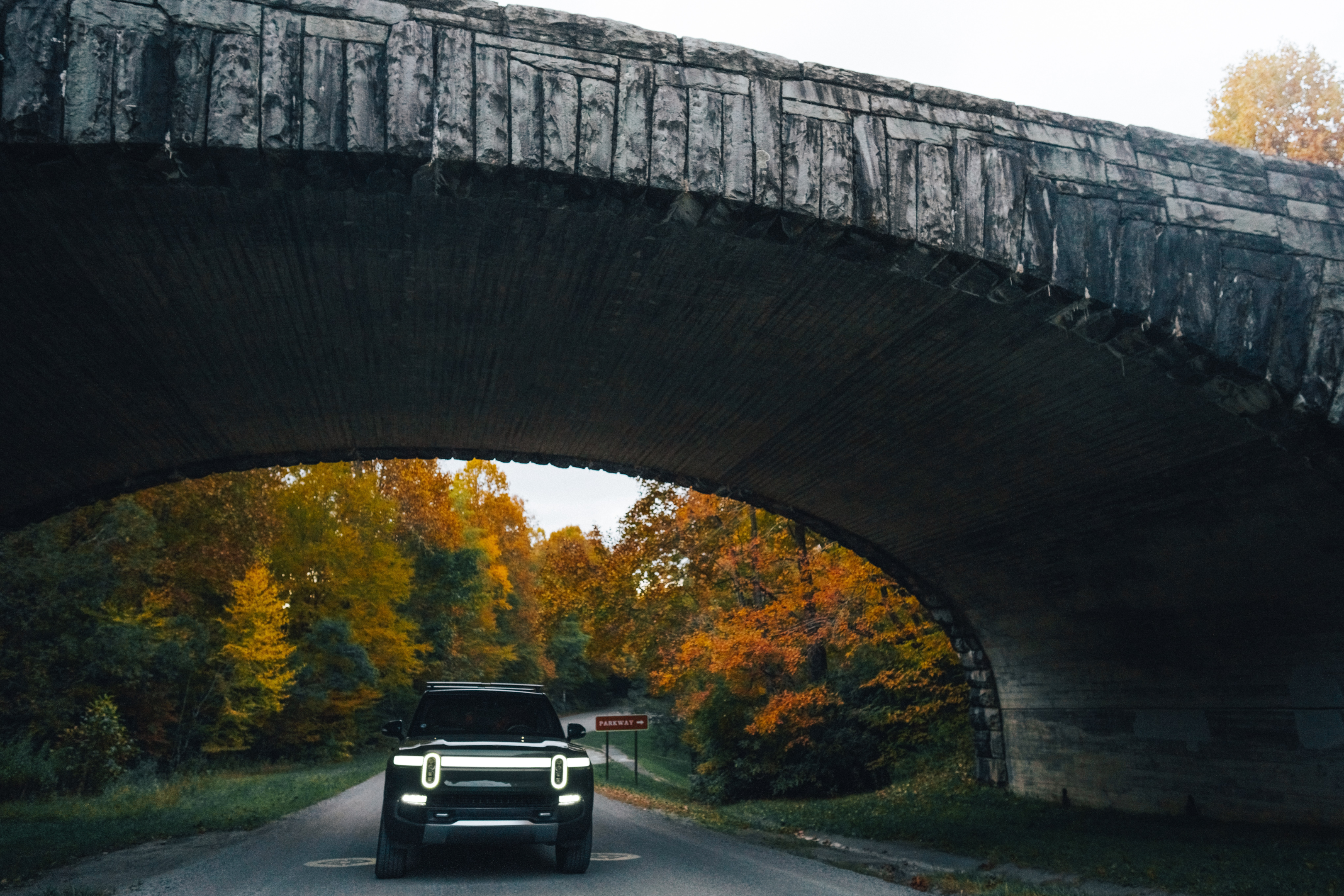 Rivian Automotive, Inc. is the name of a revolution in the history of the American Auto Industry. The company was founded in 2009. They are famous for their electric luxury SUVs while ensuring a planet that supports a sustainable and pollution-free life. Rivian is in active partnership with Amazon and is focused on building an exclusive charging network all around Canada and the United States.
Rivian is best known for its collaborative culture. Their complex designs aligning with the ecosystem make their cars more desirable to their consumers. They have an outstanding team of customer service with amazing test track records. They are focused on making net zero carbon emission a success within 2040. It is one of the very few brands that believe in total transparency and have the goal of changing the lifestyle of their customers.
Best Rivian Car Model
Currently, there are two Rivian Car Models available for your purchase. These are R1s and R1T. Both of these cars come with some unique and distinctive features to blow your mind. You can customize the colors and structure according to your preference.
Rivian R1T
If you are looking for a car to have a luxurious experience of electric vehicles with the highest capacity and performance, R1T is the car for you. It also comes with great comfort and affordability.
Capacity
If you want to travel a great mountain road with your family for a long weekend, Rivian R1T is the best fit for you. It has a battery system that can bear the hottest to the coldest of climates. It comes with a Dual-Motor and 21″ wheel combination. R1T is an all-wheel drive electric vehicle. You can also use it with its various modes, such as sport, conserve, and tow modes.
Experience
Rivian R1T comes in nine different colors to give you a premium experience of luxury. These colors are silver, blue, yellow, red, black, green, white, and ash. All these colors are inspired by various occasions, things that the customers love, and the company. For example, the color yellow is inspired by the logo of the company. It has a panoramic glass roof that helps you enjoy the view and night lights.
Like all other electric vehicles, Rivian R1T comes with Apple CarPlay and Android Auto to connect with your mobile app via Bluetooth. It has good Wi-Fi connectivity to ensure your entertainment and navigation system help you reach your destination safely and sound. The car has vegan leather seating.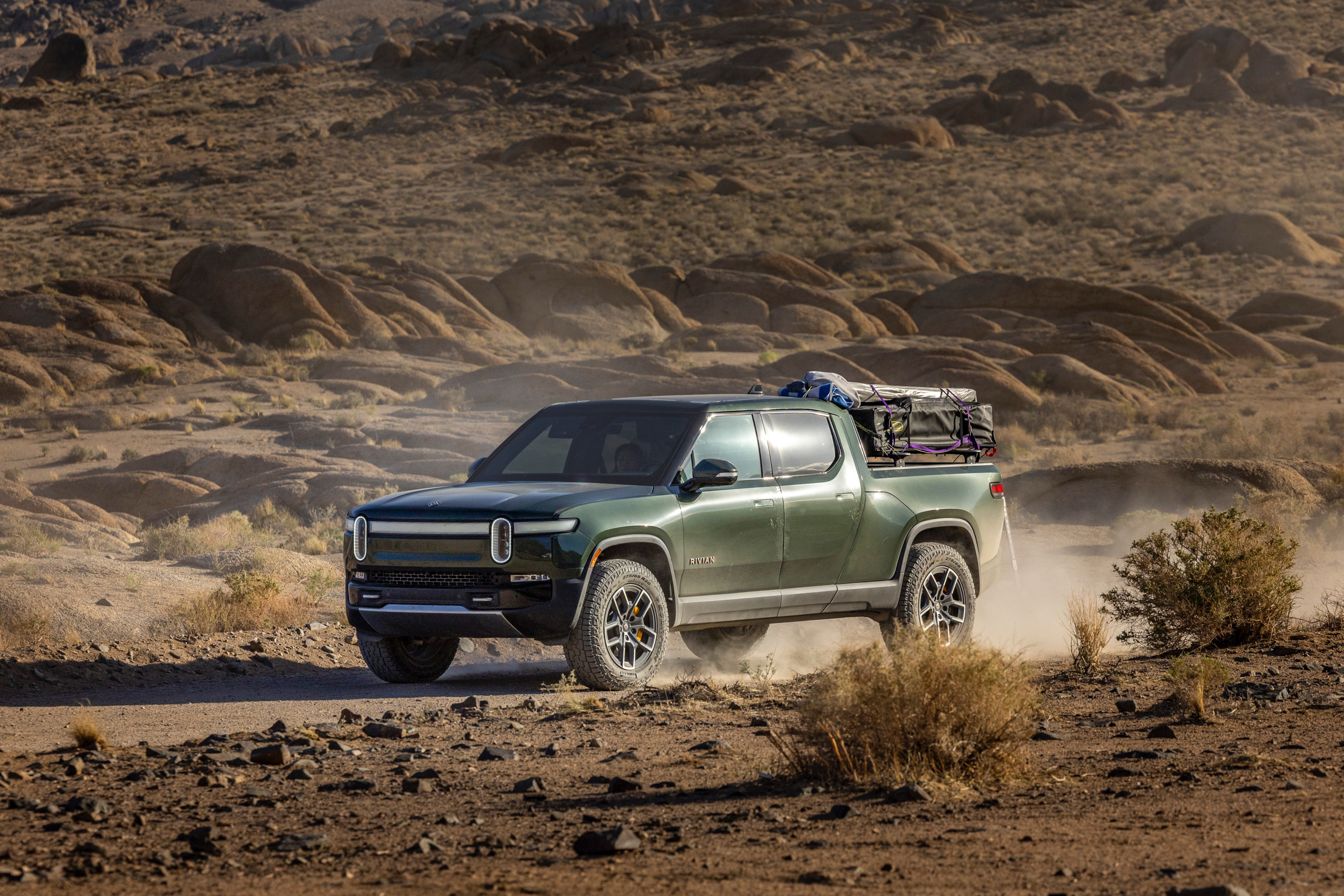 Utility
Rivian R1T has a Gear Tunnel with 11 cubic feet of storage capacity. You would be amazed to know that it has a truck bed, a camp kitchen, and adventure gear. The Tonneau cover is lockable, and the car has a capacity of five people. The air compressor and air suspension system have digital interfaces to let you see the digits you are dealing with.
Driver+
Driver+ is a feature that has been installed in all of the Rivian cars. It helps you get a true hands-free driving experience. It also ensures all the safety features while driving the car automatically. The goal is to make driving safer, less stressful, and easier than ever. This Driver+ feature functions automatically through over-the-air updates.
DRiver+ has some amazing safety features to give you a premium, hands-free driving experience. It has Adaptive Cruise Control, Lane Departure Warning, Blind Spot Warning, Dynamic Brake Support, and Highway Assistance to ensure safety at all times. An automatic Braking system is also installed in every Rivian R1T for emergencies.
Specs
The car has a height of 78.2 inches and a length of 217.1 inches. And the front truck volume is 11.1 cubic feet. Rivian R1T comes with an approaching angle of 35.5º and the departure angle of 30º. And the max ground clearance of the car is 14.9 inches.
Starting price and warranty
In the US, the starting price of Rivian R1T is only $73,000, and in Canada, it's only $100,925. The car comes with a warranty of five years or 60,000 miles. Additionally, their drivetrain and battery pack has a warranty of eight long years or 175,000 miles.
Rivian R1S
If you want the best Rivian car model, Rivian R1S might be the best choice for you. It is one of the best electric motors all around the world. This car is designed with the sole purpose of taking families, friends, and even your dogs on long and luxurious road trips.
Capacity
If you are someone who is looking for a car with third-row seats for his big family, R1S is the best choice of car for you. The Rivian company is focused on building a nationwide adventurous network with fast charging stations all around the country with convenient and easy access. Like other electric motors, Rivian R1S also has an independent air suspension, Hydraulic roll control, and auto damping system.
There are three types of tires built specifically for your desired Rivian car. These are 20″ All-Terrain tires, 21″ Road, and 22″ sport. You can customize them according to your preference. R1S comes with multiple modes to ensure a smooth ride on different types of roads. The modes include all-purpose, sport, Off-Road Auto, Off-Road Rock Crawl, Off-Road Rally, and Off-Road Drift. It has a towing capacity of up to 7,700 lbs.
Experience
R1S comes with a cabin that is not only warm but also a friendly and inviting place to gather all of your family members. As the car is built to make memories with your loved ones, it has a versatile seating arrangement with comfortable rear seats and abundant storage facilities. It has an astonishing glass panoramic roof that will take your breath away. Like, R1T, it comes in nine different colors, each inspired by a consumer preference or the company itself.
R1S is built with some amazing yet innovative materials and cutting the edge technology to ensure that it provides ample space for you and your family. It has an immersive audio system technology with a Bluetooth speaker to give a premium experience of entertainment while driving with your loved ones. It has many interior options, like Ocean Coast, Black Mountain, and Forest Edge, for you to explore.
Utility
The car has three rows and seven seats with a storage capacity of over 104 cubic feet. R1S is the symbol of ultimate luxury and flexibility. The car is so flexible that the height can be adjusted, and the seats can be folded flat. You can easily explore these features in the test vehicle when you take a test drive. Being powered by four electric motors, this car is also suitable for the off-road course. It is also fuel economy friendly.
To ensure that you can easily carry your large suitcases, backpacks, and coolers, R1S comes with 104 cubic feet of secure storage. This car can automatically adjust to a preferable height, either higher or lower, depending on where you parked. It can go 8.8 inches lower off the ground and 14.9 inches up the ground when traveling through steep rocky mountains.
Driver+
Driver+ is one of the standard features found on every pickup truck or SUV of Rivian company. This feature helps you to have a hands-free driving experience. Its electric powertrain, as well as various safety features, make it even more desirable to customers. The steering wheels are very swift to work on with very little body roll, thanks to the amazing suspension tuning and the placement of the battery.
There are a few driving assistance systems that come with R1S. There is Highway Assistance to control automatic braking, Adaptive Cruise Control to adjust the speed of the car, and Lane Change Assistance to help change lanes more easily. Some other Active Safety Assistance is given below:
Blind Spot Warning
Park Assistance
Rear Cross-Traffic Warning
Forward Collision Warning
Dynamic Brake Support
Automatic High Beams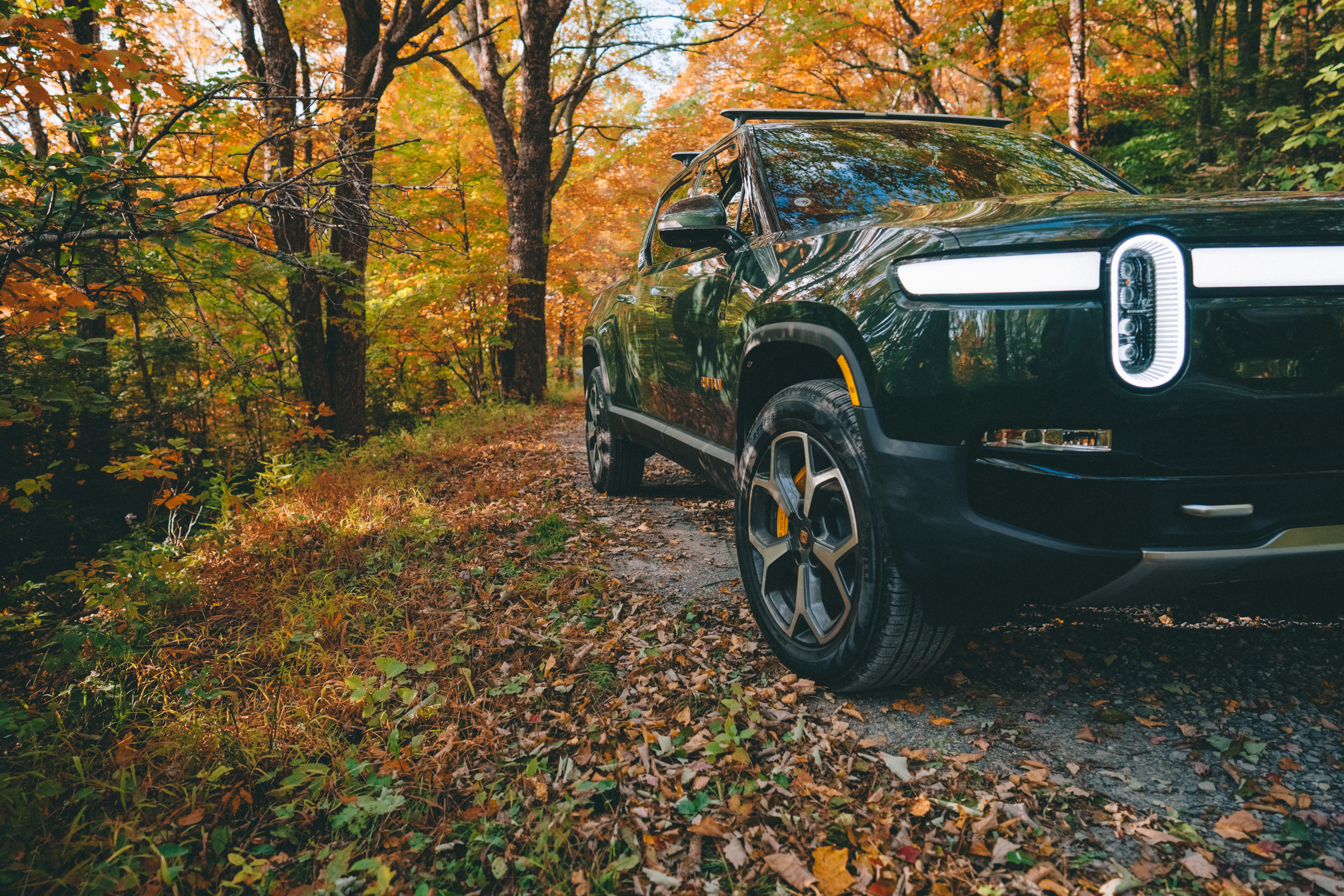 Specs
There are 12 ultrasonic sensors and 10 exterior cameras installed in R1S. The car has a height of 77.3 inches and a length of 200.8 inches. It has an approaching angle of 35.6º and a departing angle of 34.3º.
Starting price and warranty
The starting price of Rivian R1S is $78,000 in the United States, and the price is $107,675 in Canada. Like Rivian R1T, it has a warranty limit of five years or 60,000 miles.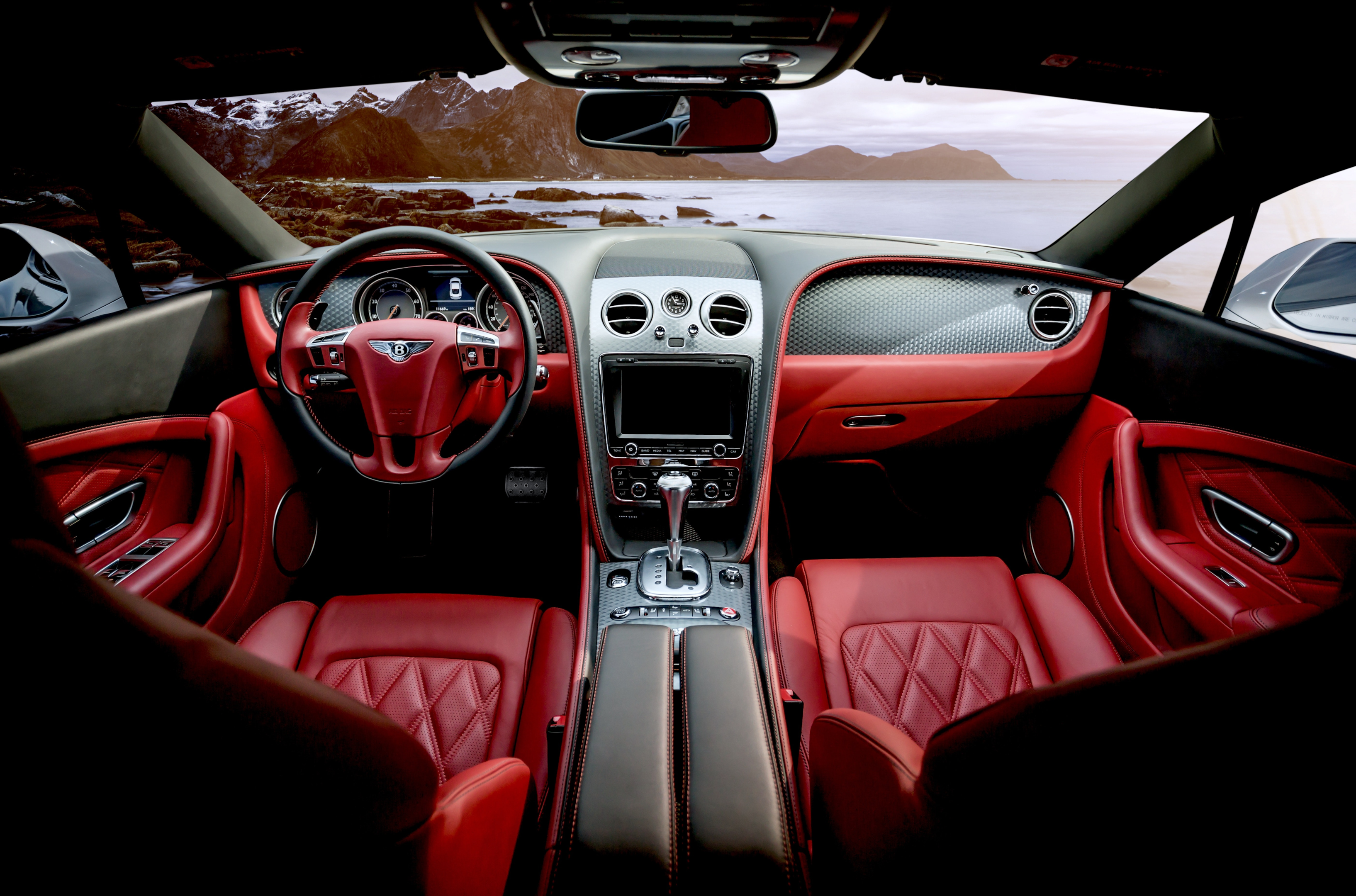 Conclusion
Rivian Company is focused on building a future that is luxurious as well as eco-friendly. That means a future that includes an environment with zero pollution while protecting our planet. Both R1T and R1S come with some mind-blowing features making your life more comfortable, easy, and stress-free.
Rivian cars are famous for their amazing performance and capability. They are perfect for a good family haul. These cars are game changers. They have very impressive interior and exterior outlooks with quick acceleration and swift handling. Rivian cars offer distinctive styling while maintaining comfort all the way. For more details, you can check out Rivian's Website.